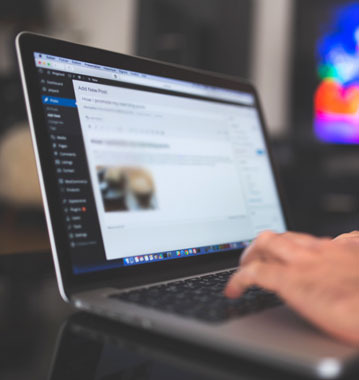 WordPress web design Dubai
Expert WordPress Design and Development Services in Dubai UAE
WordPress is a popular content management system that is widely applied for several website developments. No other CMS can match the easy to use features that WordPress offers. At Alcobyte creation of sturdy and striking websites is a daily routine. We understand the user needs of variety in design, features and services which may not be possible with a static website. It becomes a hindrance in a website's growth.
There is a huge demand for WordPress content management system development in UAE. Our experts have in-depth knowledge about WordPress and offer services that include building custom website design that will get your company maximum online visibility.
WordPress CMS development Dubai professionals working for us make sure that your website is not obsolete so that you can update your site without requiring any expert support. It does not require you to have any web programming language expertise to manage content on a WordPress CMS.
There are many reasons why you should utilize our services. We at Alcobyte are a leading WordPress website design UAE company. Our skilled web designers use the WordPress Core to create and develop unique functional sites that will give you wide-ranging features. Our team can create custom-made designs as per the varying requirements of our clients. We are specialists in delivering user-friendly, clean coding.
We make sure that our WordPress sites are custom-coded to make it easier for you to maintain. We will give a highly scalable website for your future expansion plans and requirements. Each module of your website will be carefully planned and positioned to provide maximum ease of maintenance.
As Alcobyte is an innovative WordPress development company Dubai, we excel in responsive WordPress theme customization. Our CMS experts will discuss with you and help develop a WordPress website that will be easy for you to manage, edit and update with new content whenever you want without much effort.
Being a reputed CMS web design Dubai company, we make use of WordPress CMS to design and develop inexpensive and cost-effective websites for every type of business.
WordPress CMS is an open source profit capable web development platform and our developers are eager to help you get the best profits.