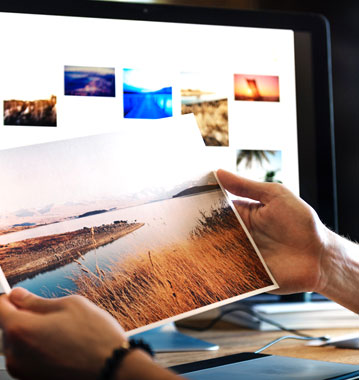 Graphic design companies in UAE
Creative Graphic Designing Services in Dubai
We build creative designs that you will love
Alcobyte is one of the well-established graphic design companies in UAE keeping abreast with all the latest graphic design trends and insights, branding and marketing tools enabling you to meet the changing needs of your clients. Our purpose is to make sure your business stays ahead of your competition. Allow us to handle all your graphic design works.
The visual effect of professional quality graphic design is vital for the success of a business. All the graphic design services, which we offer, are done in-house by our highly experienced and resourceful team of designers and developers. It is crucial that the logo, cover page designs, illustrations and caricatures, brochures, banners etc. should be exclusive and catchy to stand out among others. This is to guarantee that, with proper branding technique, your name will create a lasting impression everywhere on the web, in print and other platforms that you may use your graphics.
We employ the best graphic designer in Dubai that are proficient in Photoshop, CorelDraw, illustrator and many similar software platforms. They know how important it is to understand what your expectations are and provide graphic solutions are new, creative and advanced, covering everything from complete company branding to a professional business card design.
We will construct distinctive solutions for each of you that will keep you a few steps ahead of the other businesses in your industry. This is the primary reason why we are the best graphic design company.