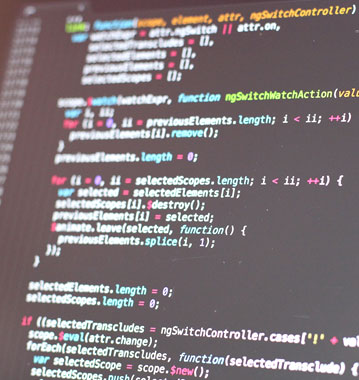 Software company in Dubai
Best Development Services
Alcobyte is one of the best software development companies in Dubai. Our skilled specialists have successfully delivered powerful software applications that have benefited many organizations. We offer customized services meeting all the requirements of our customers keeping in view their budget and time constraints. We also provide software maintenance and we are only a phone call away in case you require any assistance.
By maintaining a dedicated partnership with our diverse customers, we could gain deep insights of their individual requirements and come up with solutions that match the precise requirements of the clients. This is one of the reasons we are rated among the top software companies in UAE. What is your business? You may be a start-up or you may be a well-established set-up but having some hiccups in your current project. We probably have a solution for you or we would love to develop one for you.
Our range of knowledge is extensive- financial services, media and entertainment, wholesale and retail, pharmacy, logistics, education, energy and several more and are always looking forward to new opportunities that would broaden our experience.
Our development process
With a serious and thoughtful approach towards your business, we start from the point of concept scrutiny. Our experts meticulously analyze your needs, specify in detail your software requirements, as only then can we deliver solutions for the project the way you envision it.
Being one of the most reliable and affordable software development companies in UAE, we provide all-inclusive solutions. Along with development, Alcobyte offers deployment and further maintenance of the existing software.
Quality
On our rolls are top designers and developers each of who has vast experience and technical know-how to deliver the product within your budget and on schedule. Our developers present top-quality software with a modular construction that guarantees a solid foundation for further growth and maintenance, a great user interface and a seamless performance.
Technologies
We provide quality solutions on the following technologies:
Back end and desktop: PHP, Node.js, C++, Java, .NET
Mobile: Apache Cordova, Xamarin IOS, Android, Windows phone
Frontend: HTML5, CSS3, JS
Databases: MSSQL, MySQL, PostgreSQL, MongoDB, Oracle, SQL Azure
Integration
Software integration can sometimes become a very persistent process, but we accept it and are completely prepared for challenges. Our experts ensure seamless integration of the software with your CRM, ECM, ERP, and other business systems.
Being the best agency in software development in Dubai, we assure our clients of creating custom web applications that will be well-aligned with your business and technological strategies.